Top 40 best Professional and Premium WordPress Themes
If you have decided to get your own website or you have thought about redesigning completely the one you already own, it is essential to take time to select the theme you will use because the experience that you can provide to your visitors will depend partially on it.
Having a website with an attractive, professional, and adaptable design for any device is possible using one of the best WordPress themes. But actually, there are hundreds of premium themes, so picking one can be a difficult task.
At Wasabi Theme, we got to work and compiled the best WordPress themes according to the type of website you have to help you make the best choice.
🎯 What to look for in a Premium WordPress theme?
The success of a webpage will depend mainly on the theme you decide to use. Therefore you must choose a theme that is completely adapted to the nicheyou want to develop since there are themes for almost any topic imaginable. However, this does not mean that all of them are appropriate for your webpage.
Furthermore, you should look for a responsive, fully customizable theme that counts with excellent loading speed, is SEO optimized, and is compatible with WooCommerce in case selling is in your plans, not to mention it must include good technical support and constant updates.
Another aspect that you cannot ignore when choosing a theme is the rating of its users, both quantitatively and qualitatively. Knowing what those who already use the theme think will allow you to make an appropriate choice.
🔝 The Most Popular Premium WordPress Themes
The range of Premium WordPress theme options is quite wide, but there are some themes you should pay special attention to. These are multipurpose themes that have become the favorites of thousands of users.
Avada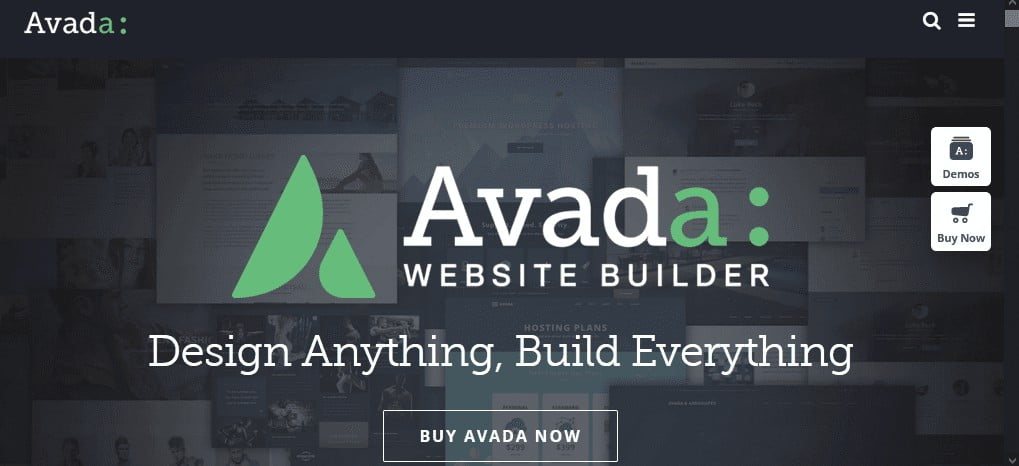 Create a unique website with original content using Avada theme, the best-selling WordPress theme for seven years in a row.
It has demo designs that you can use and edit yourself as needed. Furthermore, Premium sliders are the ideal complement for this theme since they allow you to play with your website's design by adding effects.
It integrates its own visual page builder called Fusion Page Builder, a plugin that will allow you to take full advantage of the theme by designing posts, pages, or landing pages intuitively by simply dragging and dropping the elements you want to use.
Furthermore, it is compatible with the most popular plugins, including WPML, Yoast, Contact Form 7, Gravity Forms, Slider Revolution, WooCommerce, All In One SEO, etc.
BeTheme

If you are looking for a theme that guarantees 100% customization of your website, BeTheme is the right one.
Thanks to this theme, you can change the entire design to suit your tastes, including colors, fonts, backgrounds, effects, and many more, so you give your website a unique touch.
In case you want to start from a pre-designed theme, BeTheme offers you over400 demos that only need to be downloaded and adapted to the niche you want. This shows that we face a complete yet perfect theme for those with little or no experience in web design.
It uses Muffin Builderas website builder, which, together with its large number of widgets, makes it as easy as possible to create the web in a friendly and simple environment.
Generate Press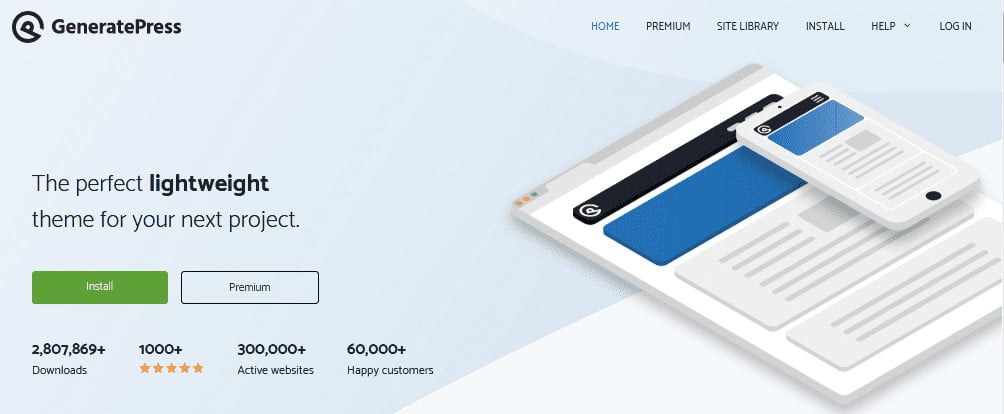 Generate Press is one of the best premium WordPress themes due to being fast, fully responsive and SEO optimized.
Although it has a free version, we recommend that you purchase the premium version, which will put in your hands everything you need to make a professional design with advanced features.
You will be able to completely configure, edit and adjust your page thanks to the fact that this is a fully customizable theme. It has addons that you can activate when you need them to adapt the theme completely to what you are looking for.
You can create your page with just the mouse, so you won't need to enter any code.
Astra

Thanks to Astra, creating a website tailored to your needs is possible and easy, as it offers users a large number of options in terms of design, thus allowing you to adapt this multipurpose theme to your desired topic.
To take advantage of all its features, you will need to install a visual builder such as Elementor or Beaver Builder, which the developers have used when creating the default pages.
The only limit to design is your imagination; choose the colors, widgets, font, sliders, and other elements you want to include in your page.
Like any good theme, it has a variety of demos, including complete website designs that just need to be installed and customized.
Genesis Framework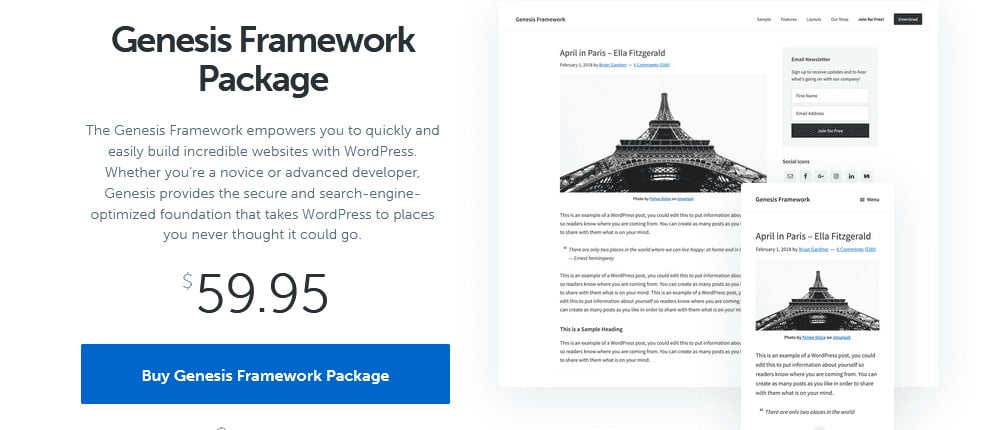 Genesis Framework is a theme builder from which you can create child themes and subsequently make all the design modifications you want on them.
In other words, since it is a theme builder, it is more recommended for web developers or people with CSS, HTML, and PHP knowledge.
Despite not being one of the easiest themes to use, it is one of the most popular because it allows creating SEO-optimized webpages, adaptable to any device.
Once you understand how it works, you can bring the design you have in mind into reality, changing styles, colors, fonts, and any design element wanted.
Divi

Divi is a very easy theme to use, edit and set up, making it one of the first considerable options when looking for a Premium theme.
It offers pre-designed demos that you can choose to start with your webpage and make the adjustments you want from it.
One of its strong points is Divi Builder, its own website builder that integrates the Drag and Drop system to facilitate any web page design.
It is also a responsive theme, perfect for online commerce.
Bridge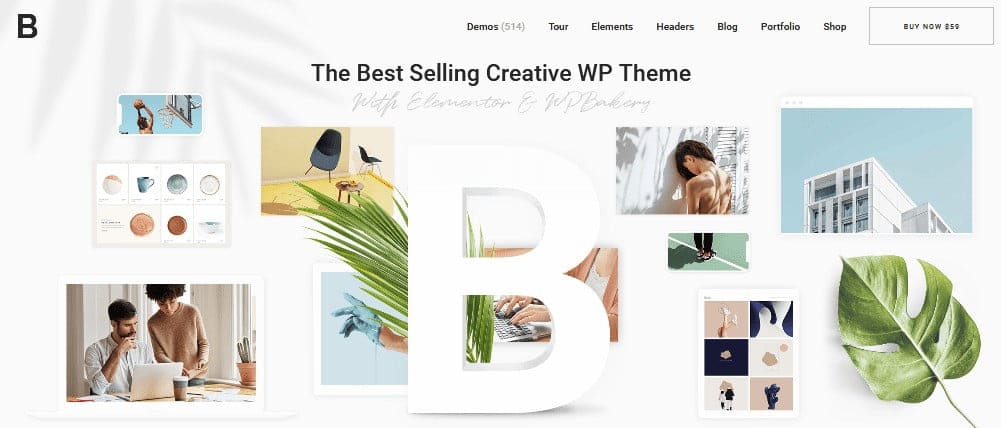 Bridge is another multipurpose theme where you can customize down to the last detail when creating your blog, online store, portfolio, or any website.
It hasover 375 pre-designed templates that you can use to save time and effort. However, if you do not like any of them, you can also create your own design from scratch.
You will have at your fingertips the possibility of adding sliders, buttons, and widgets and the ease of choosing the colors, images, and any effect you want.
It is compatible with Visual Composer, one of the most popular layout designers, not to mention a wide variety of plugins.
Enfold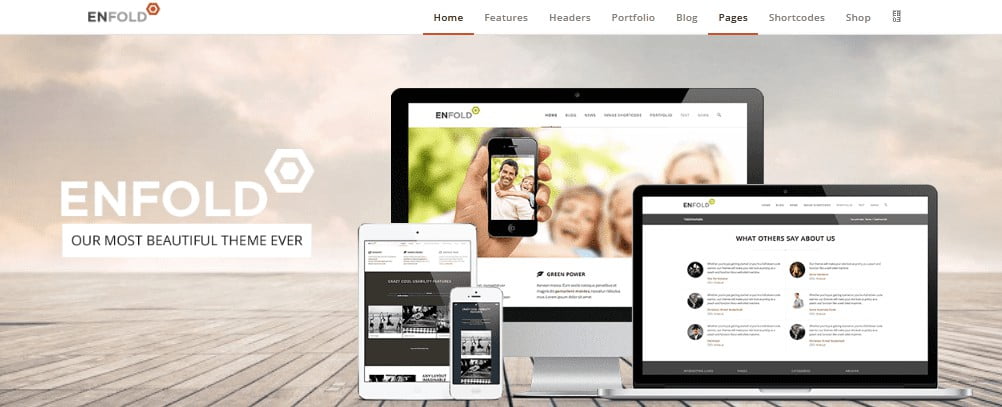 Give an original touch to your online store, blog, or website with the Enfold theme, which will allow you to create a quality website without having excellent design or program knowledge.
It is a veryeasy-to-use Premium theme that offers users a wide variety of colors, effects, icons, shortcodes, and other customizable elements.
Creating a page to your liking will be as simple as using its intuitive drag and drop system to place elements (text, images, tables, etc.) in the spot you want.
The7

The7 is an elegant premium WordPress theme suitable for all types of websites, from a personal blog to a complete online store.
It includes over 1000 template options and over 40 pre-designed websites that you can start using after installing with just one click.
After you buy it, you will be able to use the Premium WP Bakery Page Builder, Ultimate add-ons, Slider Revolution, Layer Slider, Convert Plus, and Go Pricing plugins for free, which will create more complete web pages without additional costs.
It is compatible with the latest version of WordPress and Gutenberg, and WPML to have a multi-language website. Furthermore, it is SEO friendly, so there will not be problems with positioning if you do things right.
X Theme

X Theme establishes itself as one of the most downloaded themes on ThemeForest, which clearly indicates that it is one of the best premium WordPress themes.
Thanks to this theme, you will have a large number of options to design your website, as well as four styles to help you choose the one that goes best with your page: Integrity, elegant and clean; Renew, clear and concise; Icon, minimalist; and Ethos, classic.
It has many native elements, including accordion, buttons, author box, icons, lists, images, maps, recent entries, sliders, table of contents, etc.
Thanks to this, you will not need to purchase third-party plugins. Instead, you will get everything from a single installation.
Salient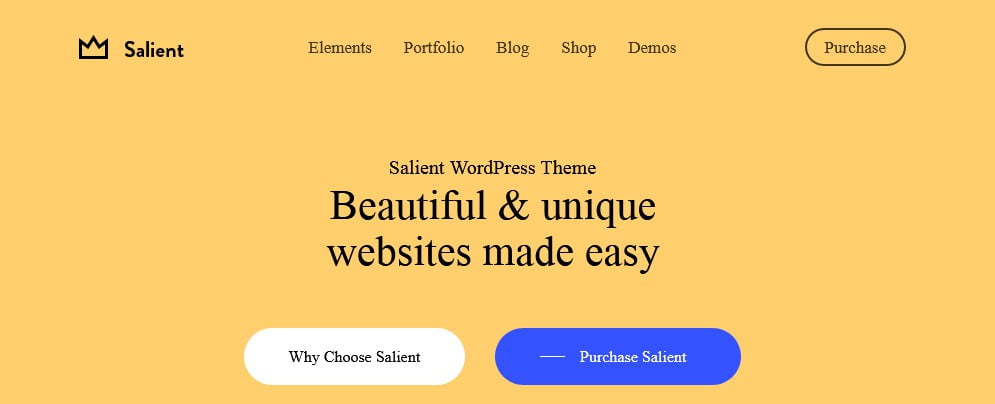 Salient is loaded with style and performance-optimizing features that allow you to design an eye-catching and professional website without much effort.
Almost regardless of your webpage's niche, in its library of over 330 pre-designed templates, you will find one for you, and all you have to do is import it with one click to start using it.
It is very well equipped, as you can see with its over 65 elements, over 1000 setup options, and its improved version of WP Bakery, one of the best visual builders at the time.
Although all sections are customizable, the header deserves a special mention because there is nothing you cannot change to include your logo, name, menu, create effects, add opacity, etc.
Sydney Theme Pro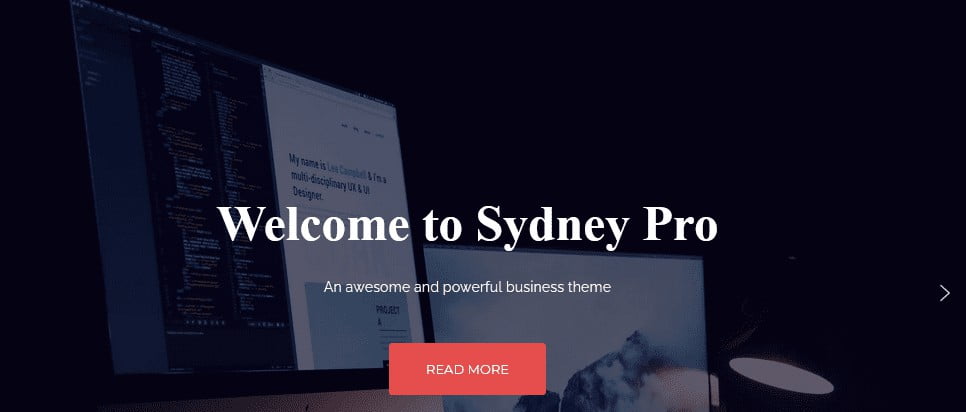 With Sydney, you can completely customize your webpage through the block system, which makes designing an effortless task.
You will be able to add images in the header as well as logos and choose the colors that best fit your page.
You will also have access to all Google fonts as well as widgets, icons, sticky navigation, and many more.
Uncode

Creating a unique and distinctive webpage without having extensive design knowledge is possible with Uncode, a theme that stands out for its exceptional loading speed since it only includes necessary elements.
It also includes default designs to facilitate the creation of pages. Moreover, its setup is very simple and easy, as you only need to choose icons, typography, and button style that you will use, thus having a quality website in a short time.
It uses Visual Composer as website builder, which allows to design by dragging and dropping different elements.
Jupiter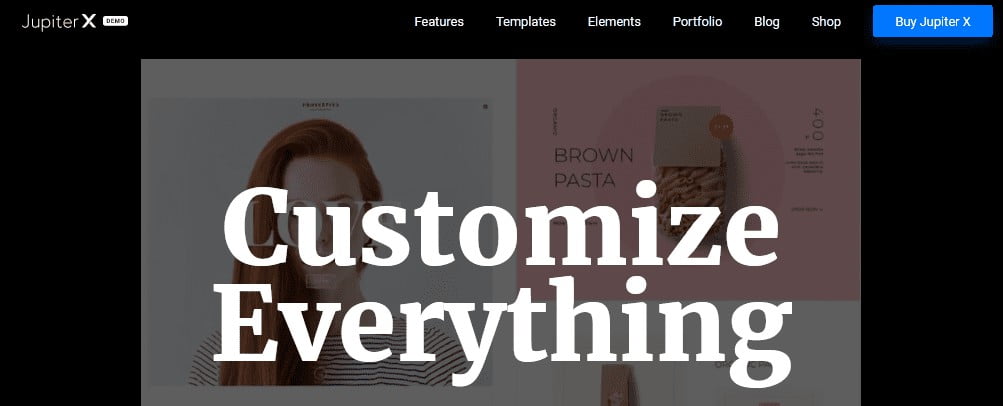 Jupiter is one of those themes used to create web pages quickly and easily with the help of Elementor.
It has an extensive library with over 300 pre-designed website templates from which you can start creating your page by customizing colors, images, fonts, and effects of any part of the page, from the header to the footer.
Furthermore, it is optimized for SEO, includes multi-language as well as Google and Adobe fonts, is responsive, has custom widgets, is prepared to comply with the GPDR, and has many more advanced features.
🤑 Best WordPress themes for SEO and niches
All Premium WordPress themes are SEO friendly, but which ones are the best?
Wasabi Theme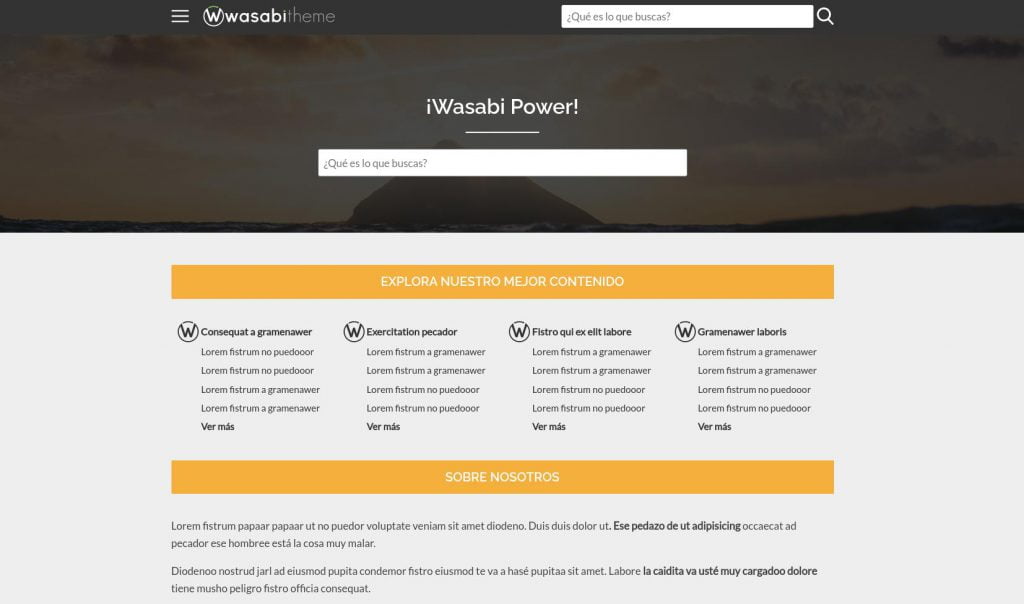 For us, the best theme for SEO is obviously Wasabi Theme, something that we do not say on a whim but because we are convinced of it.
To develop this theme, we have worked hand to hand with successful SEO professionals who know what a theme needs for it to be loved by search engines. This is the way Wasabi was born, an ideal theme for those who want to make money with niche websites that monetize with Adsense and affiliation.
Everything you need to have a successful website is included in this theme, which has a simple publishing system, SILO architecture, advanced clusters, structured data, category optimization, link obfuscation, native integration with affiliate platforms, and banner ad optimization, and unbeatable loading speed.
Do you know what the best of all is? With Wasabi, you will be able to make more money without modifying any code at all. In fact, no knowledge of web development is necessary because we have created a theme that is easy to use, so you can focus on what really interests you.
📖 Best WordPress Blog Themes
If your website is a blog in which you publish content periodically, you would need a simple theme that also helps you position yourself. These are some of the best:
Soledad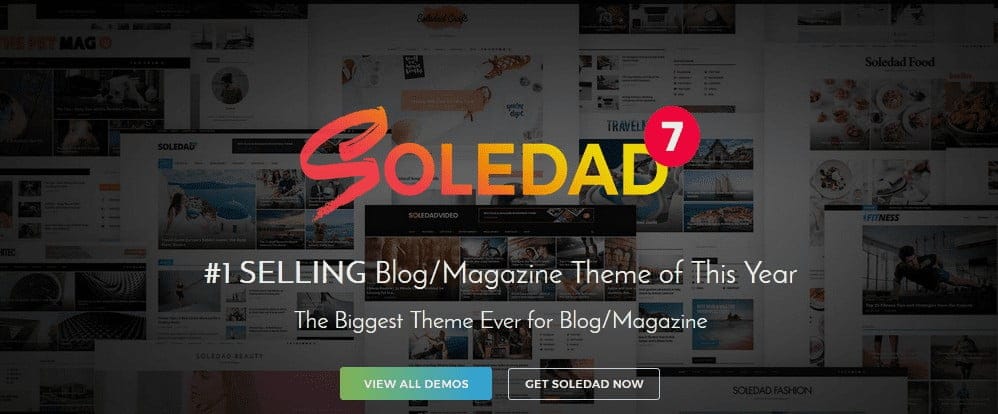 Soledad offers users a wide variety of design options, over 5,000 demos, and 700 fontswith which you can adapt your blog to the design you want.
It includes Visual Composer as website builder, it is compatible with Yoast SEO and other plugins, and it is responsive and optimized for SEO, among other features.
Hipsteria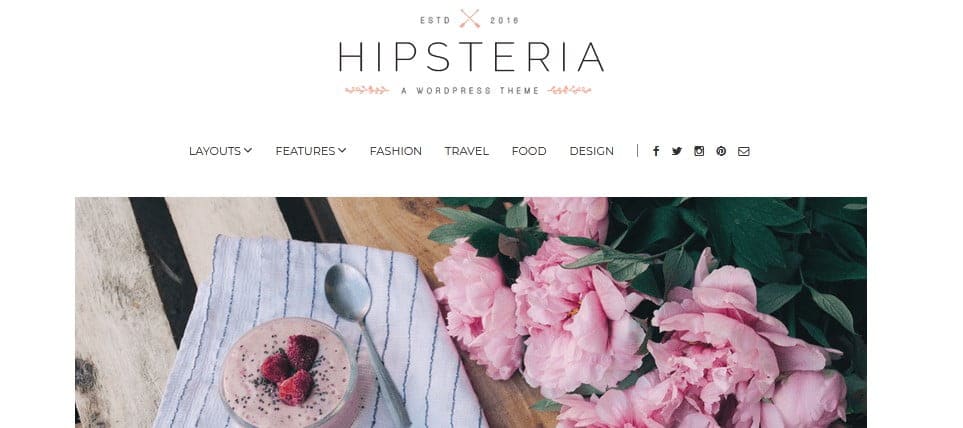 With Hipsteria, you can make the blog you have in mind a reality regardless of its topic: cooking, fashion, tourism, books, or any other.
The simplicity of this multipurpose theme makes it look super easy to use. It is responsive and has a great loading speed. It includes widgets and over 100 customization options, allowing you to take your website to another level by adding your personal touch as well as an elegant design using colors, grids, fonts, headings, and many more.
The Blogger

Design and watch the adjustments you make to your blog in real-time, thanks to The Blogger. Choose any of the 15 pre-designed demosand completely adapt them to your needs by editing all its elements as well as adding widgets, buttons, grids, choosing fonts, and sliders in a matter of minutes.
Thanks to the fact that it is responsive, your blog can be seen on any device without reducing quality. It also integrates Easy Social Share Button and is compatible with WooCommerce.
🛒 WordPress themes for online stores
Do you have an online store? Then you will love these themes:
Flatsome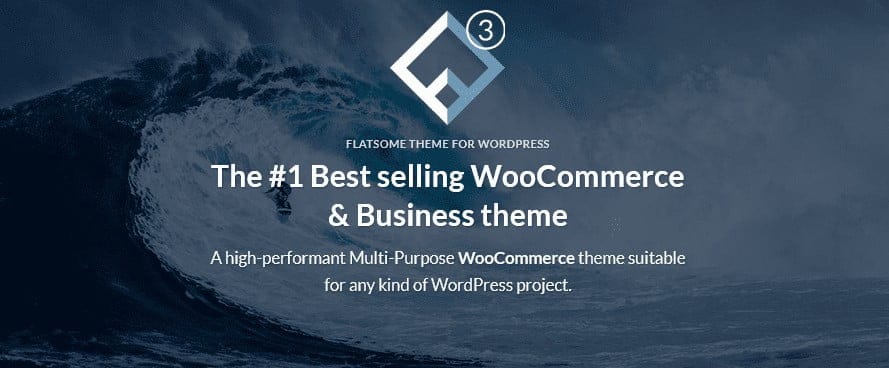 Flatsome is one of the best premium WordPress themes due to the wide variety of features, menus, and plugins it integrates.
With this theme, you will be able to draw in many buyers by using the menus you can design as a catalog, thus attractively offering your products.
It also includes some 20 pre-designed templates that will help to start designing your website by simply dragging and dropping elements you want to add or remove.
ShopKeeper

Create a unique and attractive store with ShopKeeper, a theme that will put on your fingertips the possibility of selling any type of product and receiving customer reviews, and, if you wish, activate the discount coupon system.
One of its best features is that it includes WooCommerce preinstalled, and you will also have its automatic updates. On the other hand, if you want to have an online store in two or more languages, this theme will allow you to do it.
Fashion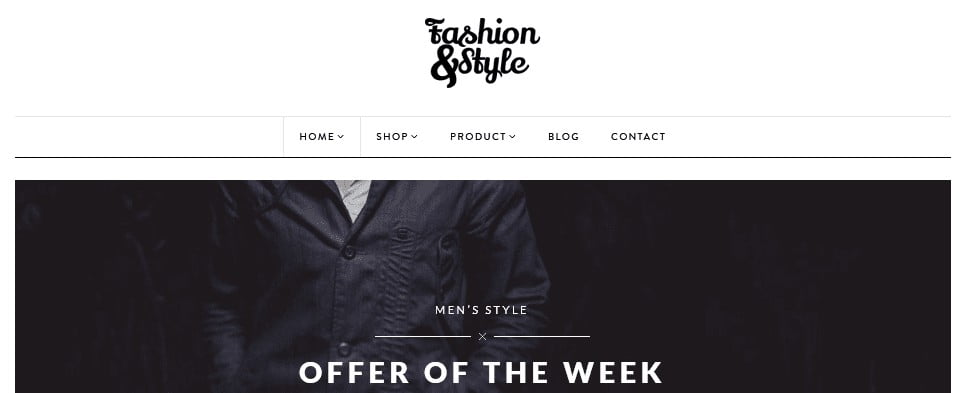 Fashion is the perfect theme for those who want to create an online store for clothing and beauty accessories.
You can use any of the four demosit includes and add or delete any feature you want.
You will also be able to sell your products attractively thanks to its effects, as well as edit menus and set them up in such a way that users can see, choose and buy with just a couple of clicks.
The loading speed is excellent, and it is also responsive.
XStore

Create a quality, secure and attractive online store in no time with XStore theme.
It has 70 online stores demos belonging to different e-commerce categories. By choosing one, you can set it up to your liking and use the effects, widgets, and plugins that it includes.
It uses Visual Composer as website builder, which facilitates the creation of your store and the ability to add a large number of elements to customize your website completely.
📷 WordPress themes for photographers
If you are a photographer who wants the world to know your work, among the following themes, you will find the right one for your website:
Photography

Photography is a fresh and modern theme that allows you to start with your website in a matter of minutes.
It includes 24 pre-designed templates which can be installed in just a few clicks and are ready for you to customize them as you please.
You will have pre-designed portfolios and up to 70 image galleries, allowing you to create a professional-looking catalog to offer your images in a professional way.
HyperX

HyperX is a perfect option for those who want to create an attractive photography website.
If the main idea of ​​your website is to sell your photos, you can do it thanks to this theme and the fact that it is fully compatible with WooCommerce.
Create the design you want for your website and choose any of the 650 fonts that it puts at your fingertips.
We want to highlight this theme and its technical characteristics: its excellent technical support, available even in Spanish.
PhotoMe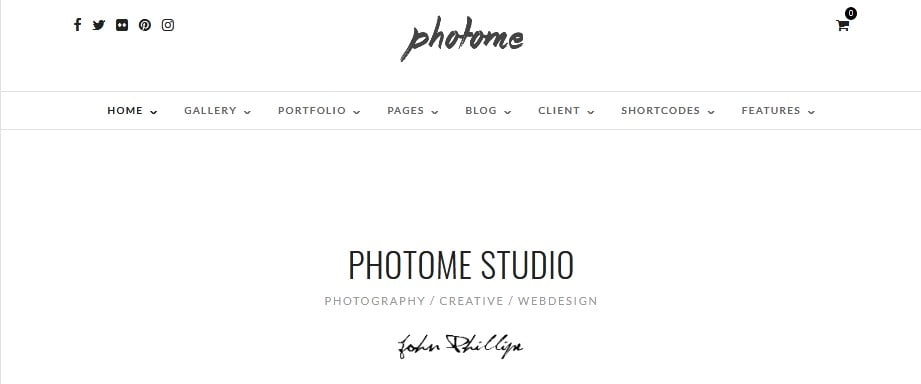 Create the best online photo store by using PhotoMe, a new theme that integrates over 50 galleries to allow you to offer and sell your photos in an attractive way.
If you do not have a specific design in mind, take inspiration from thepre-designed themes it offers, then make the adjustments you need by just pressing and selecting with a click.
Edit colors, add widgets, select the borders and install any plugins you want since it is compatible with most of them.
Photographer

You can design a modern and professional-looking page in no time with Photographer.
This theme lets you play with thedesign options, whether to edit and choose the colors, type of menu, logo, grids, typography, and many more.
Its compatibility with WooCommerce allows you to sell your images to users who visit your website from any device, thanks to the fact that it is responsive.
🍽️ WordPress themes for restaurants
It is becoming more and more common for restaurants to have their own website from which diners can learn about the menu or location and make reservations online. To have this type of website, you need a good theme like the ones we will recommend:
Capella

With Capella, you will be able to promote your restaurant and attract more customers, as you will have a professional-looking website.
There is the option todisplay each of the dishes you want to sell, upload their photos, editing names, descriptions, and prices. The best thing is that you can edit your catalog as many times as necessary without much effort.
It integrates very well with booking plugins so that visitors can manage their appointment online.
Rosa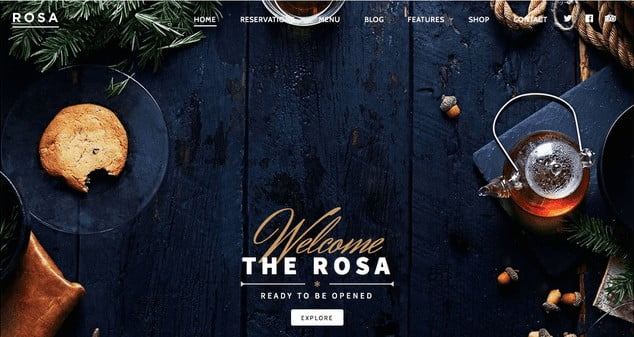 The appearance of a website will significantly affect the positive or negative results you have. That is why the Rosa theme has been designed to give an attractive and elegant touch to your restaurant page.
With Visual Composer, you can create a unique website, different from the rest by adding the flavor that distinguishes your establishment.
You have options to display each of your dishes and their prices. Furthermore, it will be much easier to manage your clients and give them the attention they deserve with the online reservation system.
Grand Restaurant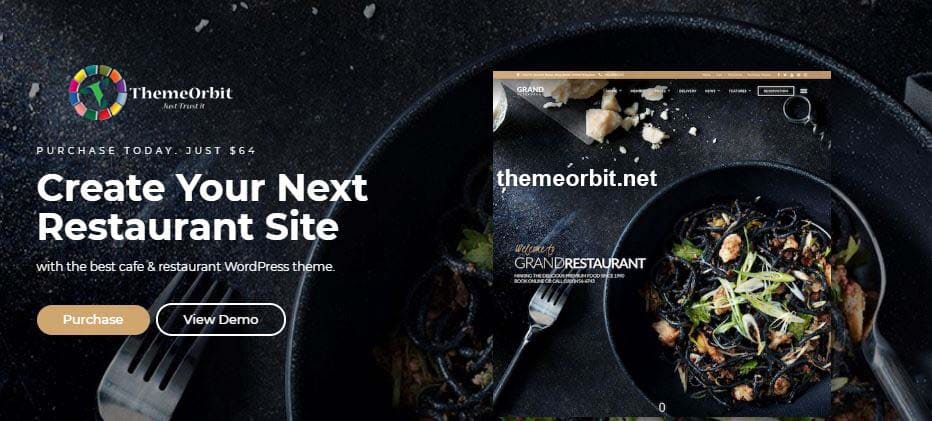 With Gran Restaurant's drag and drop system, you can easily create an attractive webpage in which to highlight your menu with its respective prices.
The reservation manageris efficient and helps to provide a better service in your restaurant.
If you do not have much experience in web design, you can use the pre-designed templates that this theme includes in which you only have to replace images, texts, and prices.
Sweet Cake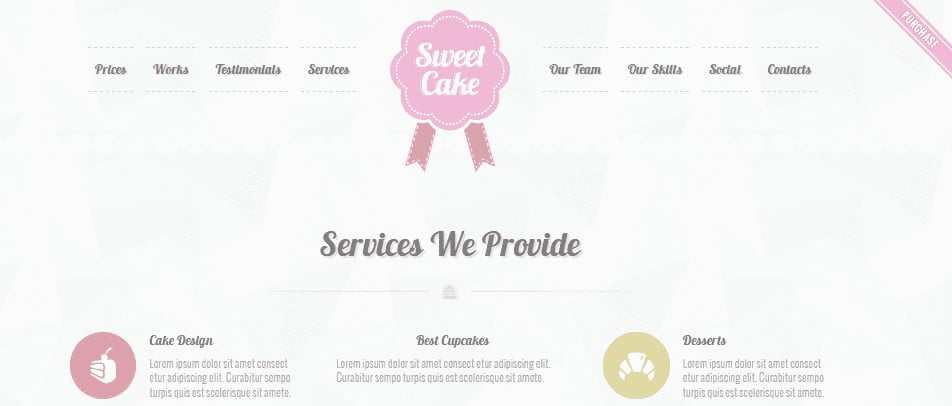 Sweet Cake is a theme that adapts very well to any type of business, but especially to pastry, chocolate, and any sweet or dessert kind of shop.
The wide variety of colors, fonts, and effects will allow you to give a unique and attractive touch to your website as well as to the products that will be offered on it.
Plus, if you want to save time and work, you can choose any pre-designed templates that it includes and make the adjustments you want to have a website different from the others.
Gastro

Gastro is a complete theme that offers awide variety of features and 12 pre-designed templates ready to install and start creating your website quickly.
Create the menus you want without having any code or web design knowledge. In addition, the online reservation system will make it easier for users to visit your restaurant.
It is also compatible with WooCommerce and Revolution Slider so that you can create a more striking design.
🎉 WordPress themes for events
If you organize concerts, weddings, conferences, or any other kind of event, then you need a WordPress theme that allows you to promote it.
Eventum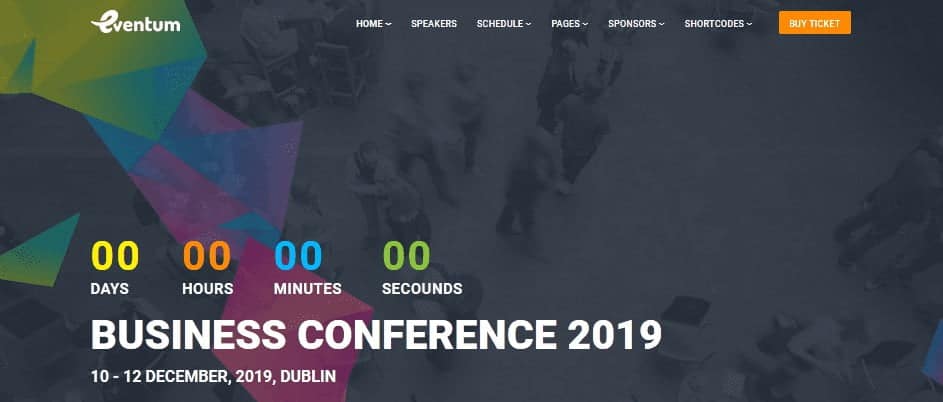 With Eventum you can create a professional and elegant event website, although if you need a more informal style, it is also possible since this theme adapts to everything.
It includes 7 homepage templates that integrate counters, registration forms, videos, sliders, photo galleries, and other eye-catching design elements.
You will need Visual Composer to use this theme, but do not worry because it is included within the theme purchase, with no extra charges.
Grand Conference

Gran Conference is a complete theme that is an excellent option for those who want to publicize their event on the Internet.
It has over 30 predefined designs, pick the one you like the most and customize it with the elements that best suit your conference or event. Add colors, menus, effects, sliders, and widgets, and choose the font you like the most with just a click.
It includes all the essential features for an event page: calendars, pricing table, and countdown counters that you can add or remove as you please.
imEvent

imEvent is a favorite of many web designers as it is very easy to adjust and edit.
In addition to customizing the website's basic design, this theme has some distinctive features; for example, you can put an mp3 audio track as a background to give an original touch to your event, especially if it is related to the music industry.
You can add ticket prices and services, tables detailing each program, maps, and much more.
It is compatible with WooCommerce and allows you to integrate an online payment gateway with PayPal.
Noisa

Noisa is aimed at a specific type of event: those in themusic industry, so if you are a musician planning the release of your next album, this theme will be helpful to you.
It is a fast and easy-to-use theme that looks great on any device regardless of the screen size, as it is responsive. It is also compatible with Visual Composer and WP Bakery, so you can create the page as you wish, not to mention it integrates Slider Revolution to generate attractive sliders and make your website even better.
An outstanding feature is the possibility of using an audio track as background on all the pages of your website and letting the visitor have complete control over it, either to play or pause it.
EventTalk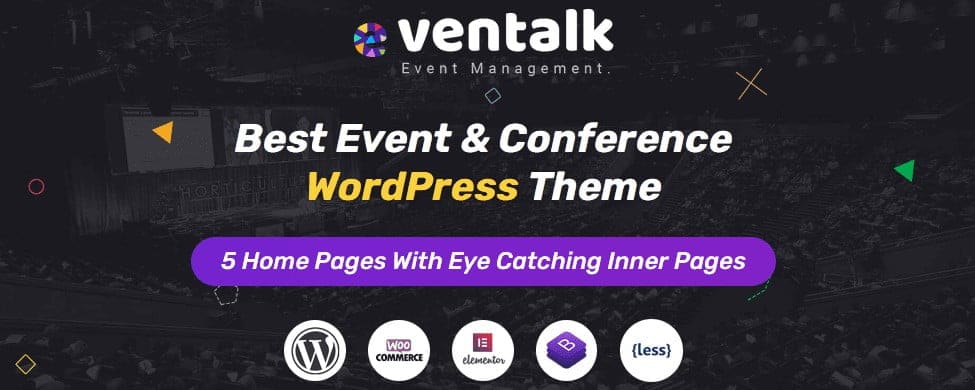 With EvenTalk, a versatile, clean, and modern theme, you will be able to create the website for that event you are promoting.
It has 12 unique homepage layouts, available as single or multi-page layouts. In addition, it allows full editing power, so you can implement changes to all design elements and make the website as close as possible to what you are looking for.
You need Elementor for its layout (which is included in the installation). That is to say, you can build your page with the drag and drop system and place the elements in the order you want.
If your event precises an online store, you can create it on the same website, thanks to its compatibility with WooCommerce.
📰 WordPress Themes for online magazines and newspapers
If your company is focused on news dissemination, these templates may be what you are looking for.
Newspaper Theme

Newspaper Theme is, undoubtedly, one of the best Premium WordPress themes and one of the favorites when it comes to creating an informative blog.
Despite being a theme with a large number of features, it is light and speedy, which helps with the positioning of your website. Furthermore, it is easy to use and very intuitive.
Not to mention it is compatible with BBPress Forum, WooCommerce, Google Adsense, BuddyPress, and many other prominent plugins.
SmartMag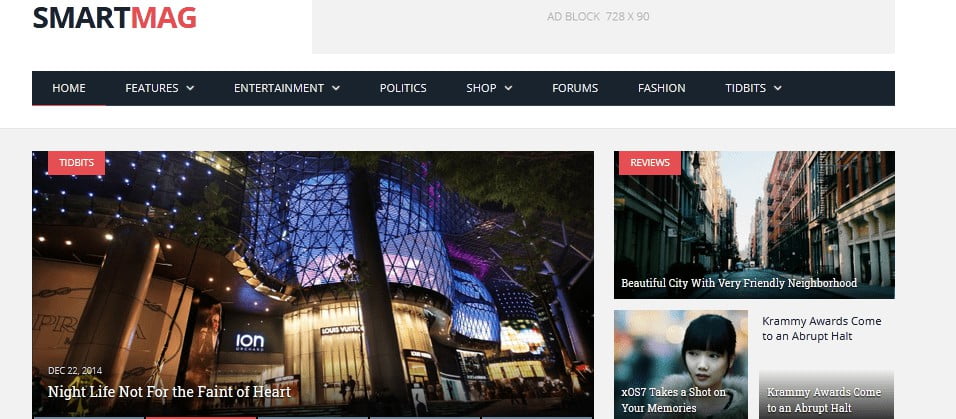 Structure your news website and facilitate user navigation by creating advanced menus with SmartMag theme.
This clean and sophisticated theme integrates many features and effects that allow you to play with design and create a website that provides a great user experience.
Multinews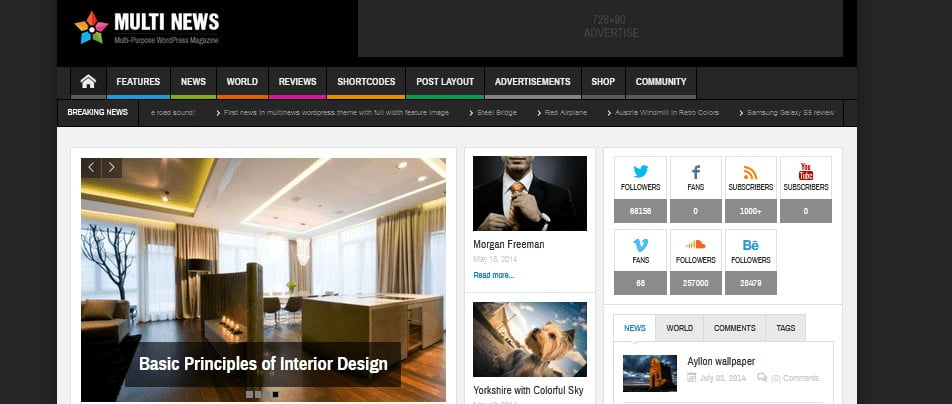 Multinews has been the favorite theme of many informative websites owners for a long time because although it has a simple structure, it is pretty complete.
The possibility of customization covers the entire website, including colors, fonts, and effects. In addition, it has a news carousel, the option to add a banner and logos, as well as a mini subscription form.
Newsmag

Newsmag is an ideal theme for those who want to create blogs, magazines, or informative articles.
It includes 14 pre-designed templates, among which you can choose the one that best suits what you are looking for and then make the adjustments you want, such as changing colors, font type, size, or even adding or removing widgets.
We have just shown you in this list the best professional WordPress themes, now, the only thing left is to choose one for your website. We recommend that you stay with the one that best suits your project and goals.