How to make money with the AliExpress Affiliate Program
There are many ways to make money online. Still, today I will talk about AliExpress Affiliate Program, an alternative to the highly competitive Amazon Associates. You need to have a website and follow these keys to start.
🤔 What is AliExpress Affiliate Program, and how does it work?

Let's start by making clear what AliExpress is. It is a marketplace belonging to the Asian e-commerce giant Alibaba Group.
In AliExpress, you can find all kinds of products from different categories, and it works very similarly to Amazon.
So, what is their affiliate program? It is a system with which you can earn money by promoting productssold in the store
It works similarly to other affiliate programs. You create an account, choose a product to promote, get a link, and share it. Then, if someone buys through it, you receive a commission. It is that easy.
🔒 How to become an AliExpress affiliate?
The first step to earning money with AliExpress Affiliate Program is to have an account. Still, there is a fundamental requirement to fulfill: you must have a website or blog with quality content because you will share the links.
If you already have a website, then you can sign up for the program by following these steps:
Go to AliExpress Portals.
Click on Register.
Complete the registration form by entering your country, e-mail address, and password.
Click on Create account.
Confirm your e-mail by entering the code sent to you.
Add information about yourself, your website, and your contact details. Use actual data only.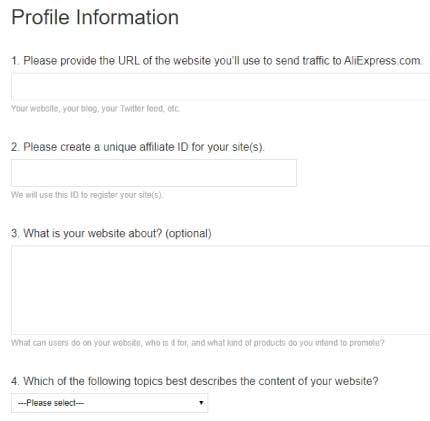 AliExpress will review your website at the end of the registration. If it meets the company's requirements, it will be accepted, so it is necessary that before registering it, you make sure that it is a quality site.
💳 How much and how does AliExpress pay?
The point related to commissions is one of the most attractive of this affiliate program since they are above others like Amazon and eBay.
The commission depends on the category to which the product purchased through your link belongs. Still, the minimum is no less than 8%, while the maximum is 50%. For this reason, it is one of the most profitable affiliate programs that currently exist.
If you manage to get a lot of traffic from a link, you will earn a generous amount of money per month. How can you collect it, though? Perhaps this is one of the points in which AliExpress is less attractive since payment is made only by international bank transfers.
As for the frequency, payments are released monthly, but you need to reach a minimum of $16.
🔗 How to get commissioned AliExpress Affiliate Links
You already have your account and website approved. Now it is time to start sharing the links to generate income.
You need to go to your user or administration panel and click on the AdCenter tab to get the links.
This is the section where you will find products and their respective links and conditions, like the percentage you will earn per sale.
You can also get them by browsing the AliExpress website using the affiliate toolbar on the top.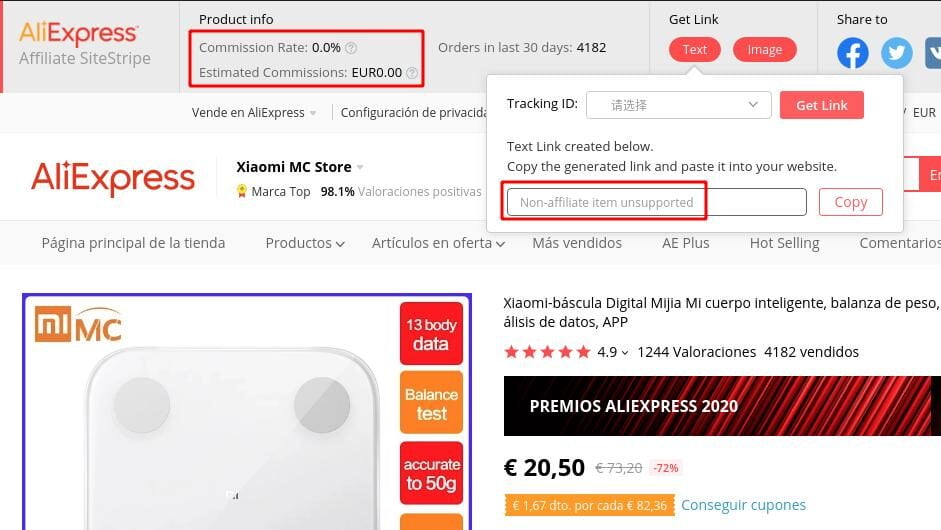 📙 Guide on creating an AliExpress Affiliate Program website
Now that you know all the relevant details about AliExpress Affiliate Program, it is time to join it. Therefore, it is convenient to follow these steps.
1. Choose your niche
First, it would be best to establish the niche you will focus on, determining which products you will promote.
We have already written about finding profitable niches for affiliate programs in another article. Still, you can opt for a general website in which you will promote products from various categories, a thematic website in which you deal with several topics of the same subject, and a niche website in which you are specifically going to focus on a type of product.
There are millions of products on AliExpress, so how do you choose one? It can be a difficult decision to make. Therefore, it is essential for you to look at two aspects: product searches and commission.
It is to be expected that the more searches a product has, the more likely it is to generate sales, and therefore having a link to it is a good idea. As for commissions, we have already said that these can range from 8% to 50%, so analyze how profitable is each particular product for you.
Do not look that much at the product's price but its commission. You can find costly products with very low commissions.
2. Buy the domain and hosting
You have already visualized what niche you are going to focus on. Now it is time to create your website. This will require two things: domain and hosting.
The domain is the name that your site will have on the internet and by which users can find you. At the same time, the hosting is the site where it will be hosted.
There are many providers where you can hire both, and they will help you connect them. Here are some suggestions for you.
Regarding the domain, choose one that is simple, which would make it easy for visitors to remember. As for the hosting, try to choose a provider that offers enough disk space and monthly transfer and guaranteed Uptime or activity time of at least 99%.
3. Create the website with WordPress and Wasabi Theme
Next, you must install WordPress on your hosting, which will not take more than a few clicks. Your provider itself will tell you how to do it. It may even come pre-installed, and you do not have to do anything.
We recommend using WordPress because it is the most secure and complete content management system that exists, which allows you to create a website tailored to your needs to monetize it with AliExpress.
Not to mention WordPress has many plugins or add-ons with which you can include all the features you want to your site.
Choosing the theme with which you will work is also essential. Of course, we recommend Wasabi Theme because it is the most optimized theme for affiliation of all those that currently exist, and it is also 100% SEO friendly, so positioning your website will not be complicated.
After installing Wasabi Theme, you will have to prepare your website to launch it. You can include your logo, change colors, choose permalinks configuration, and any other element to customize your page and make it attractive.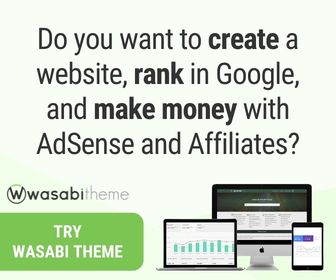 4. SEO
SEO optimization is important to rank high in search engines, get traffic, and direct buyers to AliExpress with your affiliate links.
If you do have SEO experience, it may be easy to understand, but you need to work on it if you want visits. The best way to do so is by having an SEO-optimized theme, with which you already have part of the way covered. The solution? Wasabi Theme.
Wasabi has been developed by and for SEOs, making it the best option against its competitors. It has been created by applying the most important principles for website monetization.
As we saw, AliExpress Affiliate Program is one of the most profitable programs; if you prepare your website correctly with the guide we have given you in this post, you can start earning money every time someone buys with your link. The commissions are juicy, and displaying the products with Wasabi Theme is a piece of cake.
5. Read our complete and free guide
Now that you have read the overview of the main steps to creating your website, we recommend you read our complete and free guide on creating affiliate websites: a guide on creating niche pages.
⚖️ Aliplugin or Wasabi Theme?
When you have an AliExpress Affiliate account, you need to display the products you are promoting on your website so that visitors can click on your links. One of the best ways to achieve this is Aliplugin. This WordPress plugin allows you to create an online affiliate store in just minutes.
This implies an installation on your website that could interfere with its loading speed. Therefore, compared to Aliplugin, Wasabi Theme is a more practical option that is also optimized to earn money with affiliate programs, including AliExpress, as we told you previously.
With Wasabi, you will not have to install anything else since all the features are already included. That way, you will not affect the loading speed of your website, nor do you have to pay for additional plugins.
Furthermore, Wasabi allows you to create attractive product boxes and comparison charts. That is to say, it gives you everything you need to earn money with AliExpress Affiliate Program without paying more.