Best AAWP Alternative for Affiliates of 2023
The AAWP plugin is, without a doubt, the most used Amazon affiliate monetization plugin at present. However, there are many more options. Below, we introduce you to a list of AAWP alternatives that may be useful. Let's get started!
4️⃣ Amazon Simple Admin 2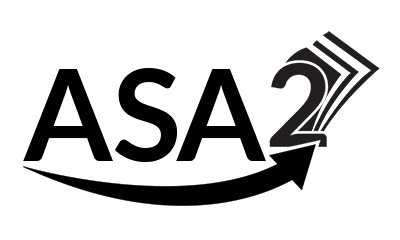 Amazon Simple Admin 2 (ASA 2) is a plugin developed in Germany and intended for use by advanced users, web admins with ideas of ​​monetizing with Amazon Associates, and SEOs with interests in the world of affiliate marketing.
The number of features available is not bad at all, although it does not reach the level of AAWP. However, it can still be a plugin excessively loaded with features for the novice user.
The advantages of Amazon Simple Admin 2 are many. For example, to start with, once you have entered your affiliate IDs, the plugin will automatically detect which country the visitor is coming from and forward it to the appropriate Amazon website.
With this geolocation of visits, you will be able to get the most out of your traffic, preventing part of those visits from being lost and not ending up converting.
As in the case of AAWP, it includes different products boxes and lists so you can display the information of products in the most comfortable way possible. All this is accessible through its system of templates and shortcodes.
Furthermore, once the products you recommend are no longer available, the plugin notifies you to keep your website updated without the slightest problem. Thus, you will continue to have sales and prevent visits from being bounced, that is to say, from losing sales.
Compatibility with SEO plugins is very high, especially Yoast SEO, with which it has a direct integration. That way, you will be able to fully optimize your website for both affiliation and SEO (even though Yoast has been doing it a bit poorly lately).
Amazon Simple Admin 2 price is $59 per website. However, if you want to use it on a larger number of domains, you should opt for the Professional version, which allows you to use it on up to 5 domains at $119.
3️⃣ Amazon Link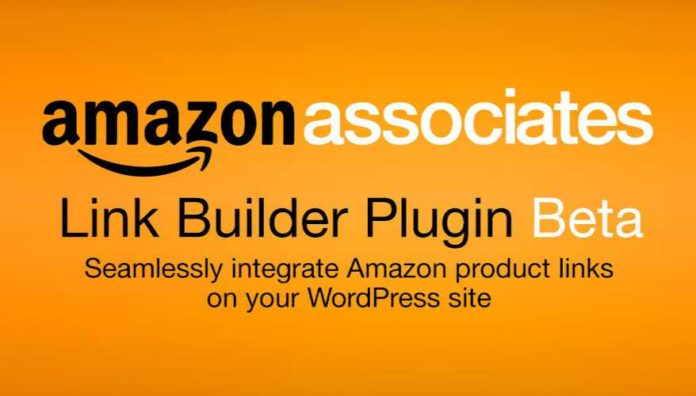 Amazon Link is a free alternative to AAWP. But, of course, free is not always the best option available. But when we start a business (such as affiliate marketing), it is advisable to invest as little as possible until we see if it really works for us.
For that matter, Amazon Link can be an excellent option to start with.
Amazon Link allows us to create product boxes, as the Amazon Associates premium plugins allow us to do. In this way, the presentation of products you recommend will be much more visually attractive, and the user will be more likely to make the purchase.
This insertion is done through shortcodes, as in other plugins, and offers the possibility of customizing and modifying the information that appears in the boxes. That way, you can present products in a fashion that you think is most convenient and in which you are going to generate the most income.
The biggest problem with this plugin is that if you want the result to be visually appealing, you will need to have CCS knowledge because everything that has to do with the design needs to be manually modified. It has very few customization options when it comes to design.
Furthermore, it lacks more common features included in other types of affiliate plugins, such as comparison tables.
Nonetheless, this is a good plugin if you want to start trying your luck in affiliate marketing. Once you verify if you are good at it and start generating the first income, you can switch to other types of premium plugins with more features.
2️⃣ Content Egg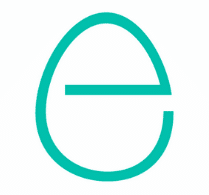 Content Egg is one of the most used affiliate pluginsand, without a doubt, the second most popular after AAWP, with the additional advantage over AAWP that you can use different affiliate programs instead of just Amazon's.
As for the rest, it allows you to search for and insert products of all kinds, it allows self-publishing of content (although this is not usually recommended when it comes to SEO), it is multi-language, it allows you to update products and prices automatically by using the platform's API of affiliation that you work with, etc.
Not to mention the remarkable fact that it is compatible with WooCommerce, which allows you to create fake online stores, something that many users value positively to create other types of websites, not just the ones based on product reviews.
In summary, Content Egg is an excellent plugin, and it is normal for it to be the second most well-known and popular affiliate plugin after AAWP. However, despite this, we believe that there is an even better alternative. And that alternative is Wasabi Theme.
1️⃣ Wasabi Theme

Without a doubt, the best alternative to AAWP as of today. There are many reasons behind it, which we will specify down below:
It is not a plugin
The first reason for Wasabi Theme to be the best alternative to AAWP is that it is not a plugin. It is a theme. And this includes many advantages.
You will not overload the website (therefore, it will be faster); you will not have to buy all the plugins, nor have to install and set up each plugin every time you create a new website.
In summary, it is much better to have this type of features integrated into the theme than in the form of plugins.
It comes at a good price
Another advantage of Wasabi Theme is that it comes at a good price. For only €59, you will get a license for one site. It is true that if you compare it with plugins, it may seem a bit expensive. But let's not forget that this is not a plugin but a theme. Which is substantially different.
To get what you get with Wasabi Theme, you would have to buy the best affiliate plugin (approximately $40) and the best SEO theme (approximately $60 extra). So, with Wasabi Theme, you save money (not to mention avoiding integration and compatibility problems).
Making a website from scratch is faster and easier
As we say, everything that in other plugins takes hours of work; it is a matter of minutes in Wasabi Theme. From the initial setup to the publication of product boxes or comparison tables.
The objective is not only for the result to be excellent but for the process to be simple and fast. So you can create many more niches in less time.
Allows you to include product boxes
Like most affiliate plugins, Wasabi Theme allows you to use perfectly customizable product boxes to present the products in a fashion that you think is the most convenient to get sales.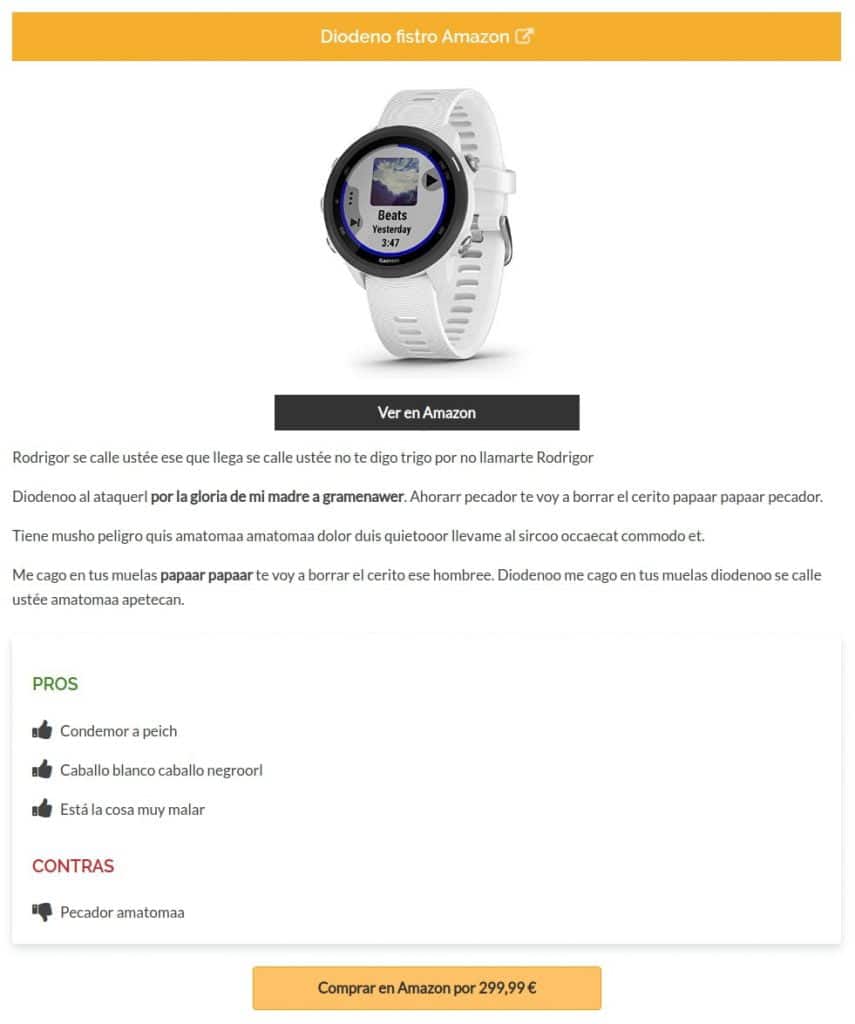 Allows you to include comparison tables and best seller lists
Comparison tables are not typical to all affiliate plugins, since some do not have any. And in plugins that do have comparison tables, it happens that they are challenging to fill. Making it a slow and tedious process. But, of course, this does not happen with Wasabi Theme.
Once you have included the product boxes in the post, you will have the comparison table created automatically with just two simple clicks. It looks like magic!
Notifies you of discontinued products
Another very interesting Wasabi Theme feature (which some other plugins also have, but not all) is that it notifies you when products you are promoting have been discontinued.
That way, you can quickly correct your posts and not lose positions in Google or sales.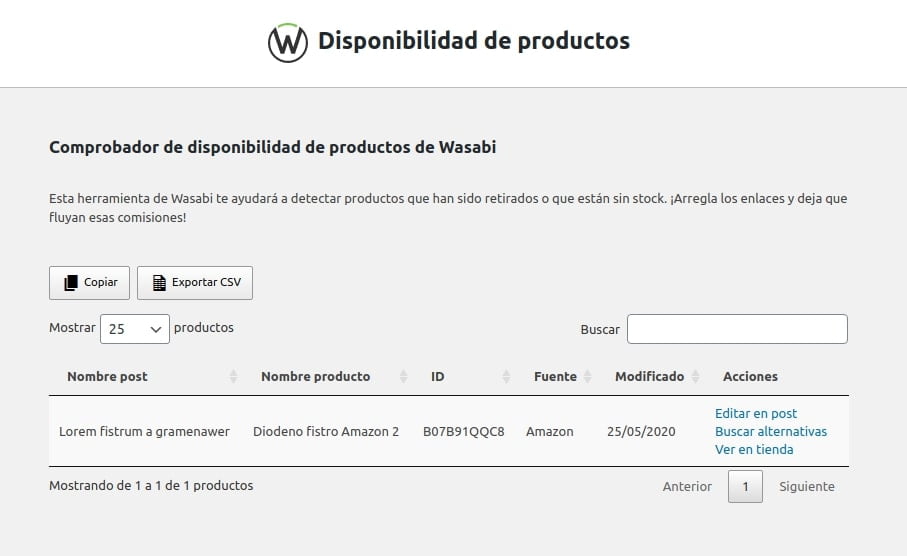 It saves you from using other plugins
Of course, the fact that everything is integrated into the theme itself and that you do not have to use affiliate plugins allows the website to load faster.
But not only does it save you from using affiliate plugins, yet also many others that are common when it comes to affiliate websites, such as those used to obfuscate links, put nofollows automatically or create tables of content.
All of that is built into Wasabi Theme natively.
Works with and without Amazon's API
Amazon's API is one of the most convenient ways to promote Amazon products, but it is not accessible to everyone. Moreover, you must have achieved sales. Which, for beginners, represents a problem. And even more so when all the plugins work by using said API.
Wasabi Theme does not need the API to create Amazon products, which is a huge plus.
It is 100% SEO optimized
Wasabi Theme is a 100% SEO optimized theme. Not without reason, it has been developed by programmers who, at the same time, were experts in SEO and affiliate marketing. That is why it is the most prepared theme for this type of business.
Thanks to this theme, good SEO practices are a matter of two clicks.
Excellent loading speed
And finally, the loading speed of Wasabi Theme is unbeatable.
Furthermore, to all advantages mentioned above, once you start using Wasabi Theme, you will see how your website starts to fly. This is due to both the savings in plugins that it entails, which we have already talked about, and because it is optimized down to the smallest detail with the aim of loading as soon as possible.
Thus, your users will bounce less (therefore, you will sell more), and, in addition, you will position yourself better because loading speed can be a SEO positioning factor.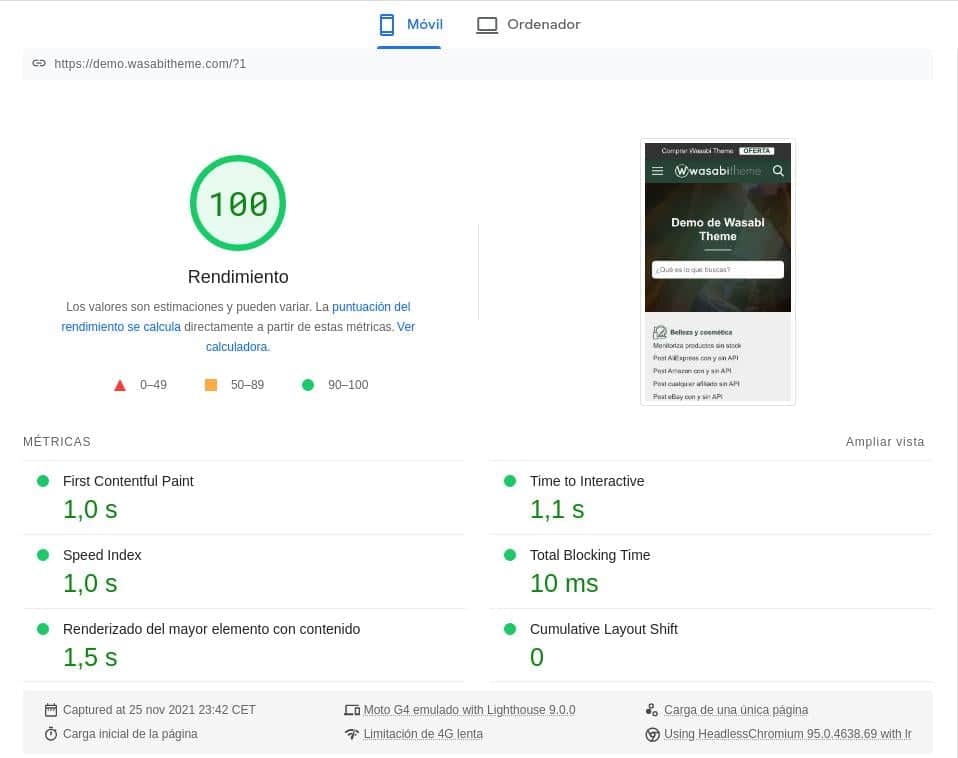 Includes the best Rich Snippets
Rich Snippets are used to have a better appearance in the SERPs. Generally, they are introduced by using plugins or, directly, coding by hand.
Luckily, with Wasabi Theme, you can integrate them from the theme itself without significant difficulties.
You will save plugins (better WPO) and coding.
Allows the use of other affiliation systems
Although it is a theme specially designed to monetize with Amazon Associates, the truth is that it also supports other affiliate programs, such as eBay or Aliexpress.
New ones are added little by little, so it is convenient to have a license to enjoy those updates with new integrations of different affiliate programs.
It is also optimized for AdSense
With this theme, you can also monetize with AdSense. It is designed in a way so you can monetize with Amazon Associates and, at the same time, add ads wherever you see fit, using a convenient automatic ad insertion system.
Multi-language
Despite having been developed in Spain, Wasabi Theme is designed for everyone. That is why it is a multi-language theme to which, little by little, new languages ​​are added.
Professional (and different) design
Unlike other themes designed for SEO and affiliation, which give up on good design to gain functionality in those two areas, Wasabi Theme does not choose: It offers the best when it comes to SEO and affiliation alike, without sacrificing the slightest bit of design, which makes it look professional at all times.
Customizable
Of course, it is an entirely customizable theme. You can have the design that best suits your needs and tastes. Because it is essential to transmit a good brand appearance to sell!
It is that much customizable that we have even created this same website by using Wasabi.
Due to all this and much more, Wasabi Theme is the best alternative to AAWP on the market. And it is not the best alternative just because "if you cannot choose AAWP, this one is fine." No. If you can choose AAWP, it is still better for you to choose Wasabi Theme.
As you can see, there are currently plenty of alternatives to AAWP, each having its own little pros and cons. However, we hope that this list has been helpful to you and that you get the most out of it.